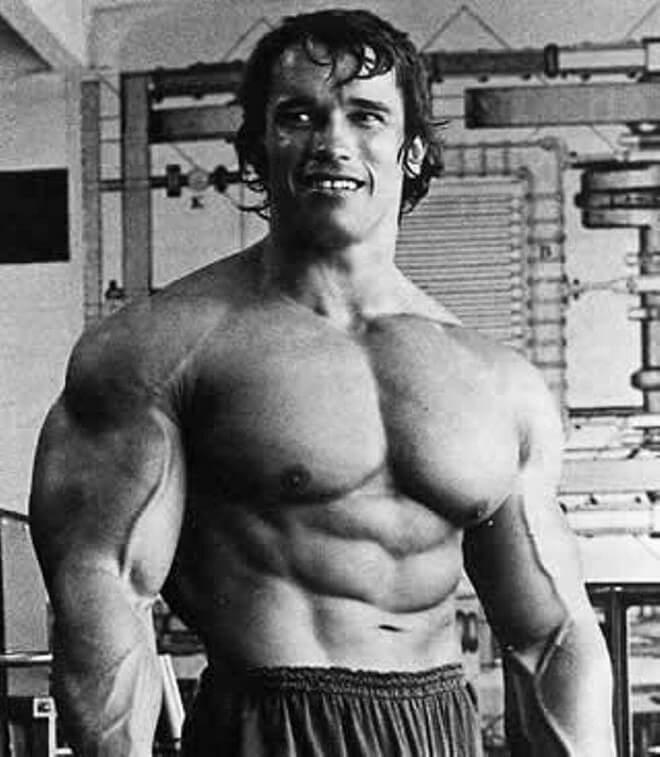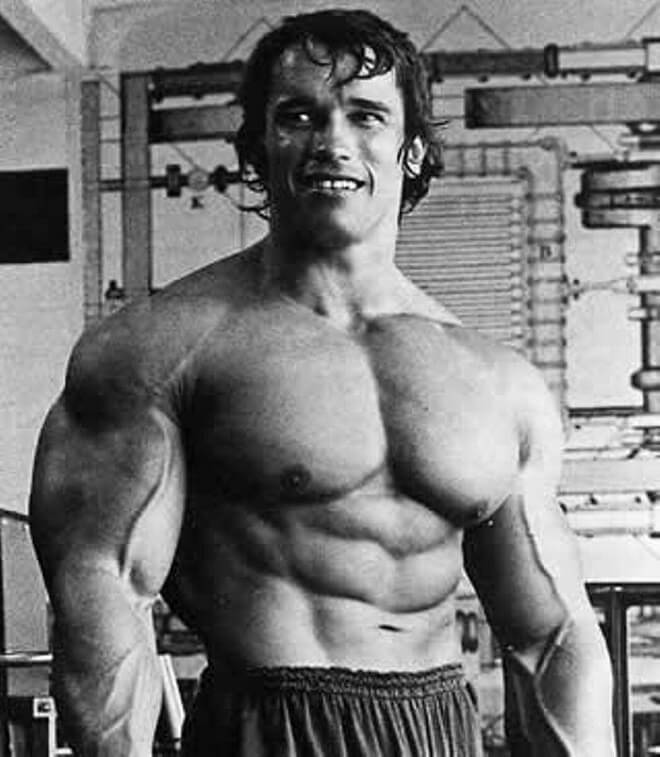 Being successful in the gym (and in life) isn't a result of having explosive amounts of motivation to workout (though that helps).
And it doesn't come about from flash-in-the-pan effort.
It comes from the discipline to stick to a new habit. And it arises from the consistency that comes when you apply these habits over an extended period of time.
Sure, discipline, good habits and consistency in the gym don't sound very glamorous, and they don't look good plastered on the front of the latest Muscle Blaster 9000 supplement (in organic cherry red and pina colada blue!).
But without question they are the main drivers of performance both under the bar and out from under it.
Arnold Schwarzenegger has worn many hats over the years, from Governor of California, to action star, to bodybuilding legend. In the late 1960's he started competing on stage, winning his first Mr. Universe in 1967.
Between 1970 and 1980 he would win the Mr. Olympia title 7 times, including dominating the top of the podium between 1970-1975 before coming out of retirement to notch the final one on '80.
As the youngest champion ever at age 23, and the most dominant winner of all time, the young Austrian used his new fame to catapult himself into a movie career that continues to this day.
ARNOLD ON THE POWER OF HABIT
To achieve the stratospheric level of success that Arnold reached he depended on precision and planning. His workout routine was carefully planned out. He knew in advance what he would be doing that session, that day, and that week.
There were no surprises or last-minute changes when he got to the gym.
But it's perhaps his morning routine that is most noteworthy.
While living the bachelor lifestyle in South California during the late 1960's with fellow bodybuilder Franco Columbu it would be easy to picture a couple young muscle builders with a messy pad.
Not so.
"Our apartment was always cleaner than everyone else's I went to," Arnold would write in his autobiography "Total Recall."
Pay attention to the last sentence (emphasis mine)—
We vacuumed regularly; the dishes were always done, with nothing piling up; and the bed was always made, military-style. We were both into the discipline of getting up in the morning and straightening up before you leave the house. The more you do it, the more automatic it becomes, and the less effort it takes.
Arnold may well have been talking about his gym routine here as well.
And the habits there are just as striking—two-a-days, first session at 7am, and dedicated time for managing the professional ambitions of a movie star in the making in-between.
While Arnold talks often about his desire and drive to succeed that helped him propel him to greatness, it was his habits that built the foundation of his success.
MAKING HABITS WORK FOR YOU
Cool, you might be thinking. That's great for Arnold. A guy who trained for a living. What does this have to do with me?
Habits are simple, powerful, and utterly unique. They aren't limited to high achievers, and aren't something that show up one day and mysteriously control us.
In other words, you have the power to create and sustain powerful workout habits that can help you achieve hilarious amounts of success in and out of the gym.
Here are a few simple ideas for making them work for you:
Create an environment that supports your habits. Probably the easiest way to cut down on the friction on making your habits stick is having an environment that promotes their success. Arnold trained at a gym with other aspiring bodybuilders; not too hard to find motivation to show up every day when the competition is training in the same gym. When your surrounding align with your new habit it is much, much easier to get it to stick.
Start small. Little victories are thoroughly underrated. While something as small as making the bed seems insignificant, those little wins create the momentum and proof you need to show you that you can stick to sustained change. Swinging for the fences on day one is fun, and those grand gestures make for good TV, but if you want to make meaningful change start as small as you need to in order to make the new habit stick.
Learn from stumbles. Most of the time you will drop the ball on your new habit a few times before you master it. And this is okay. We tend to beat ourselves up big time when we set out to do something awesome, and then trip up after a couple days or weeks, seeing the failure as some sort of personal indictment that we weren't worthy or deserving. Stumbling is okay; just make sure that when you hit the dirt face first that get up, learned why you tripped, and be willing to start over better and smarter.


In Summary
Habits, by and large, dictate what we do over the course of the day.
What time we get out of bed. What we do in the morning. How we react to specific events in our lives. And yes, whether or not we get our butt to the gym that day.
Will you become the master of your habits, or will you let your habits continue to dictate you and your physique?
SEE ALSO:
Here's Why You Won't Keep Your New Years Resolutions This Year. Staying on track with big goals and new habits is tough work. Here are 5 common pitfalls athletes and gym-goers tumble into when seeking big-time improvement.