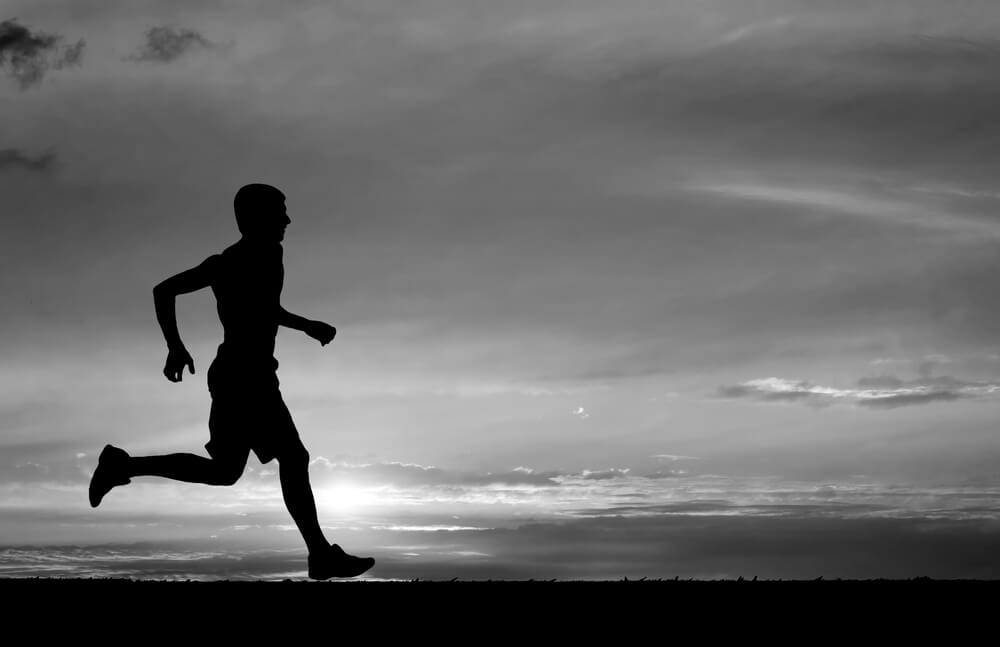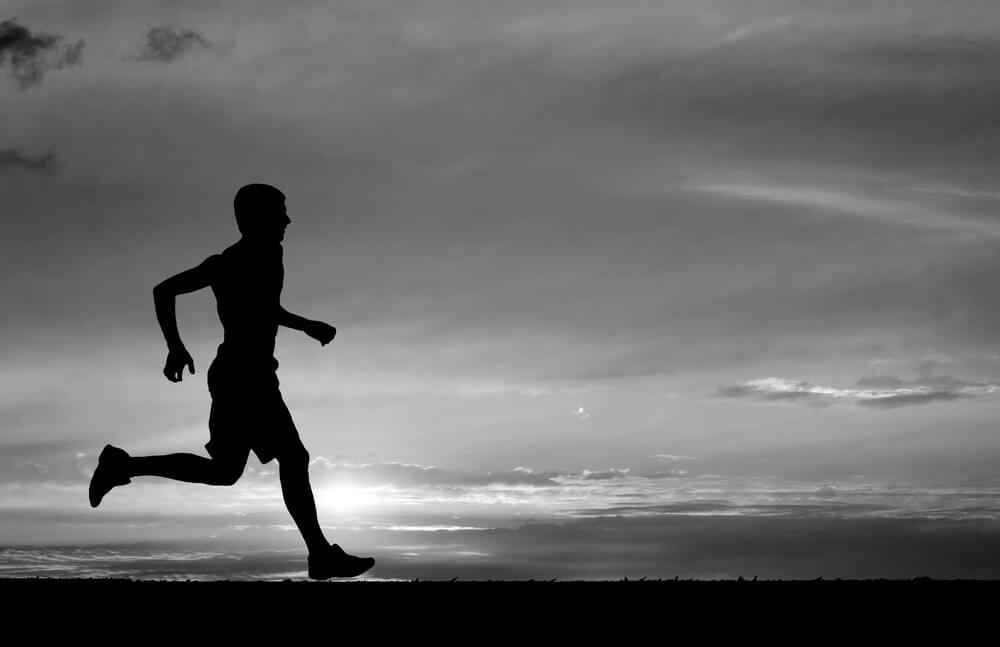 It's a familiar scene—with glasses raised, surrounded by friends, and bottles popping we make the decision that this is going to be the year that we finally take things to the next level.
It's become somewhat of a running joke to create a resolution each year so that you have a sense of optimism that you will do things better in the future. That the best version of yourself is still to come.
You see it in the flurry of new memberships and "noobs" that flood my local gym over the first few weeks of January. The rush to the produce aisles from the denizens of folk looking to finally eat better. And the marked uptick in fitness and workout merchandise.
New Years resolutions, despite their good intentions, rarely stick.
Just how rarely?
Ouch.
Instead of going down the well-worn path of failed resolutions this year, here are a handful of ways that you sabotaged yourself in the past, and what to do in order to put yourself in a position to be successful.
You lack the patience for long term success.
Maybe the results aren't happening fast enough. Or you are finding the grind to be particularly unpleasant. Whichever the case, when you are looking to make a new change in behavior it is necessary to be patient.
After all, if you are looking to set your workout routine or workouts on complete auto-pilot, so that you aren't engaged in a daily back-and-forth over whether or not you should be going to the gym, it's critical to remember that automaticity takes time.
How long depends on the difficulty of the habit, but forget the 21-day benchmark that you have heard around self-improvement circles (and originally attributed to plastic surgeon Maxwell Maltz who found that post-surgery it typically took new patients a minimum of three weeks to adjust mentally to their new physical appearance).
"Habit is ten times nature."

Arthur Wellesley
The self-improvement culture ran away with this number, making it a hard and fast rule. Three weeks and the habit is permanent!
Not so, however.
Research published in the European Journal of Social Psychology in 2010 found that instead of 21-days, habits took anywhere between 18 days and 8 months depending on the difficulty of the habit.
A glass of water after breakfast? Most respondents found that it took about 3 weeks to become a fully ingrained habit. And yes, the new workout habits were the most difficult to make stick.
The reality is that there is no hard and fast number for how long it will take for you to make the new habit stick, with many factors at play including difficulty, how much of a disruption it is to your current behaviors, how motivated you are to make the habit stick, and so on.
While the average time-span for habit-formation was 66 days in the research, the good news is that the biggest gains happen in the first few weeks. (More on that in a moment.)
You get overwhelmed with the long range goals.
Having big goals and things we want to accomplish are awesome. They provide a compass for our day to day actions. Something to dream about when we walk into the gym, lay in bed at night, and bypass that second helping of cake.
But when you are standing on the starting line, and you can't even see that goal of yours across the horizon, it is tempting to feel overwhelmed and paralyzed by the work that lies ahead.
So much so that you can't help but sag your shoulders and mutter, "Well, that was fun. Screw this."
"Chains of habit are too light to be felt until they are too heavy to be broken."

Warren Buffett
The good news is this—the first couple weeks are where the bulk of the improvements happen with your resolution. It's where the majority of the groundwork is laid in terms of automaticity: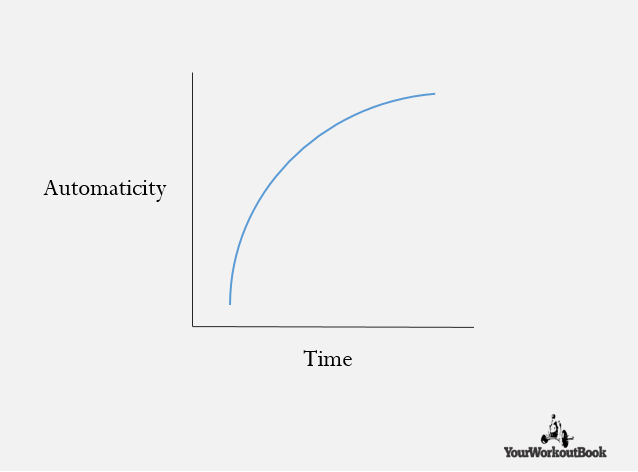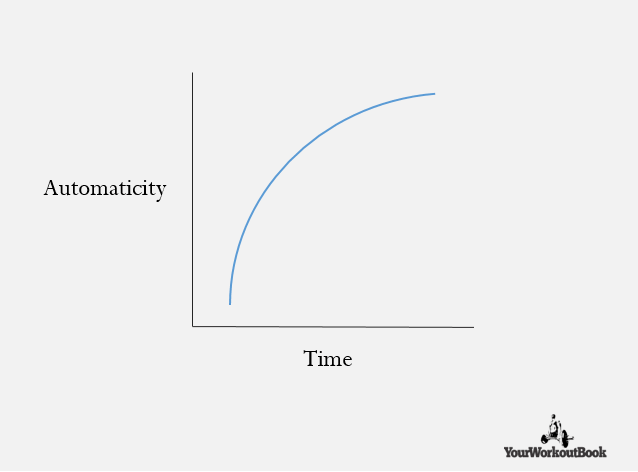 So instead of making a promise to workout every day for the rest of the year, focus on making it through until the end of January.
Forget the marathon aspect to your goal for a moment, and focus on executing a controlled sprint for the next few weeks.
You believe that things have to go perfectly.
Make a goal, write it out, make a plan, make it happen. Bingo, bango, bongo. Smooth sailing.
But that is never the way it goes. Life has a peculiar knack for disrupting and sometimes completely shattering even our best laid plans.
So why do we hold onto a belief that everything has to go perfectly according to plan from the get-go?
The good news is this—messing up isn't fatal.
In that same study cited earlier published in the European Journal of Social Psychology, those who were successful with maintaining their goal or habit over the long term messed up on occasion.
The intermittent slip-up didn't materially affect the "habit formation process."
One-off screw ups aren't deal breakers—so breathe easy you perfectionists—but you should be making a concerted effort to hop right back on when you do occasionally miss.
You won't make your environment congruent with your goals.
Achieving our goals is hard enough. Want to make it even tougher? Surround yourself with an environment and cues that encourage the same old actions that produce the same old results.
If you are serious about your resolutions, it's time to change your environment.
Research showed that when students moved to a new school they were more likely to change their daily habits than the control group. Intuitively, this makes sense, and goes along with the "clean slate" aspect of resolutions.
Additionally, the transfer students found the change easier because the environment around them had been disrupted. Gone were the external cues that encouraged the same old behaviors.
Does this mean packing up all your gear and moving cross-state? Nope. But it does mean that you should be looking at disrupting your past patterns and routines in order to force some conscious decision making.
It could be going to a new gym. Trying a different workout routine. Anything that shakes you out of the shackles of your environment.
Another proven way to hack your surroundings is to take advantage of your current routines and patterns by unleashing the power of implementation intentions.
What are these fancy little fellas, you ask? Fairly simple, actually.
All you need to do is create an "if-then" plan that incorporates a cue with a goal-directed response.
Here are a couple examples:
When I wake up I am going to drink 16oz of water.
When I finish work I am going to drive to the gym.
This simple practice of piggybacking a new behavior to existing ones has been shown to be markedly powerful, so don't dismiss it based on its simple nature.
You are making things way too complicated.
I can understand the appeal of the glitzy overnight success story. A decision was made, wholesale change implemented, and whammy—incredible results achieved at what seems like a superhuman pace.
But being successful with your goals is not like this. It shouldn't be an emotional roller coaster. Or a daily battle in order to make the correct decision.
It's being consistent. It's keeping things simple. And it's boring.
When we are burdened with too much choice we run the chances of running into decision fatigue or analysis paralysis. When we have so much choice, so many decisions to make that we either start to make poorer decisions or no decision at all.
If you've ever tried to find something to watch on Netflix, but then given up because of the myriad of choices, then you know exactly what I am talking about here.
The easiest way to combat this, and to keep yourself on track over the long haul, is to make your goal or habit as simple and as routine as possible by setting a schedule.
Where most resolutions go astray is by being gung-ho about having a rigid deadline ("I'm gonna lose 12 pounds by next Tuesday!") but neglecting to create a schedule to make it happen.
Here are a few ideas:
Between the hours of 8-9:30pm, on Monday, Tuesday, Thursday and Friday we lift.
On Sunday afternoons, with football in the background, we do meal prep.
Each Wednesday morning we run and do a nice hot tub and stretch recovery session.
And so on.
Build a schedule for success.
It will keep you accountable to your goals, and while it might not produce massive results immediately, over the long term the routine is the only thing that will get you where you want to go.
In closing… Don't wait till New Years.
The temptation to start anew with the turn of the calendar is understandable. As the year turns, and twelve months of what we tend to consider underperformance fades behind us, it is cool to want to roll into the new year with a clean slate.
But you don't need to wait until the year changes to start building the habits and behaviors you want from yourself.
Start on a Monday. Or a Thursday. Or start a workout journal or log book and write "Day 1" at the top.
Sure, doing so isn't as shattering as turning the page on a year, but it can give you a sense of that clean slate in order to encourage you to charge forward without the baggage from the past year.