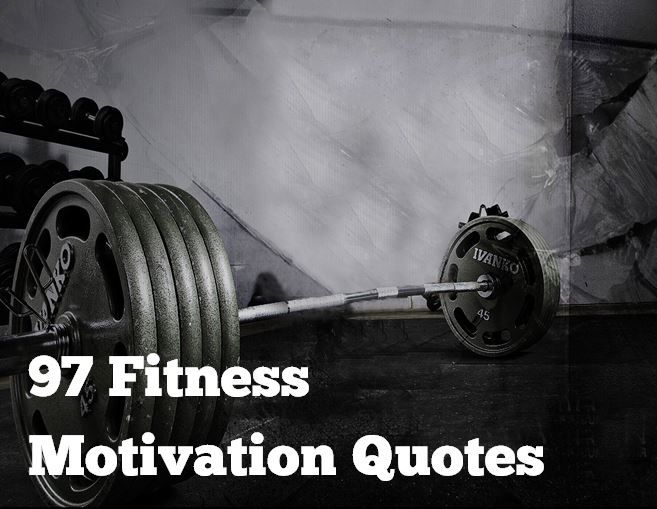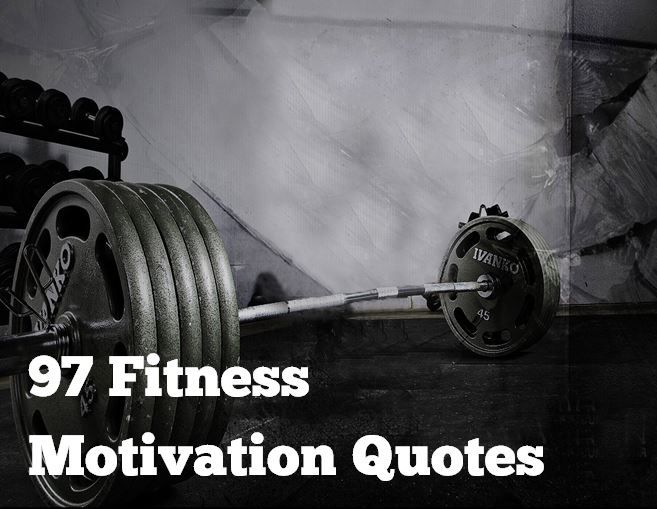 Getting motivated to not only go to the gym, but to eat right, sleep enough, and make all the lifestyle decisions necessary to live a truly epic and healthy life is difficult. Make today a little easier with this comprehensive list of fitness motivation quotes.
Which ones speak most to you?
Accept responsibility for your life. Know that it is you who will get you where you want to go, no one else. ~Les Brown
Happiness cannot be traveled to, owned, earned, or worn. It is the spiritual experience of living every minute with love, grace & gratitude.~Denis Waitley
The best revenge is massive success.~Frank Sinatra
I am thankful for all of those who said NO to me. Its because of them I'm doing it myself.~ Albert Einstein
The only way to do great work is to love what you do. If you haven't found it yet, keep looking. Don't settle.~Steve Jobs
Don't worry about failures, worry about the chances you miss when you don't even try.~ Jack Canfield
Very little is needed to make a happy life. It is all within yourself, in your way of thinking. ~Marcus Aurelius
Happy are those who dream dreams and are ready to pay the price to make them come true. ~Leon J. Suenes
Courage is resistance to fear, mastery of fear—not absence of fear. ~Mark Twain
Don't mistake activity for achievement.
Don't go around saying the world owes you a living. The world owes you nothing. It was here first. ~Mark Twain
I owe my success to having listened respectfully to the very best advice, and then going away and doing the exact opposite. ~G.K. Chesterton
To freely bloom—that is my definition of success. ~Gerry Spence
All you need in this life is ignorance and confidance; then success is sure. ~Mark Twain
A goal without a plan is just a wish. ~Antoine de Saint-Exupery
In preparing for battle I have always found that plans are useless, but planning is indispensable. ~Dwight D. Eisenhower
Success isn't permanent, and failure isn't fatal. ~Mike Ditka
Trouble is only opportunity in work clothes. ~Henry J. Kaiser
There is no security on this earth, there is only opportunity. ~General Douglas MacArthur
You always pass failure on the way to success. ~Mickey Rooney
Nothing gives one person so much advantage over another as to remain always cool and unruffled under all circumstances. ~Thomas Jefferson
Create a definite plan for carrying out your desire and begin at once, whether you are ready or not, to pt this plan into action.
~Napoleon Hill
Difficulties are meant to rouse, not discourage. The human spirit is to grow strong by conflict. ~William E. Channing
By perseverance the snail reached the ark. ~Charles Haddon Spurgeon
Nothing is particularly hard if you divide it into small jobs. ~Henry Ford
Fear is the little darkroom where negatives are developed. ~Michael Pritchard
I don't know the key to success, but the key to failure is trying to please everybody. ~Bill Cosby
Always do right. This will gratify some people and astonish the rest. ~Mark Twain
You can't wait for inspiration. You have to go after it with a club. ~Jack London
Genius is one percent inspiration, ninety-nine percent perspiration. ~Thomas A. Edison
Seize opportunity by the beard, for it is bald behind. ~Bulgarian Proverb
I'm a great believer in luck, and I find the harder I work the more I have of it. ~Thomas Jefferson
A life spent making mistakes is not only more honorable, but more useful than a life spent doing nothing. ~George Bernard Shaw
Determine never to be idle…It is wonderful how much may be done if we are always doing. ~Thomas Jefferson
Always bear in mind that you own resolution to succeed is more important than any one thing. ~Abraham Lincoln
It is possible to fail in many ways…while to succeed is possible only in one way. ~Aristotle
Our problems are man-made, therefore they may be solved by man. No problem of human destiny is beyond human beings.
~John F. Kennedy
A timid person is frightened before a danger, a coward during the time, and a courageous person afterward. ~Jean Paul Richter
You must do the thing you think you cannot do. ~Eleanor Roosevelt
The ancient Greek definition of happiness was the full use of your powers along lines of excellence. ~John F. Kennedy
Men are born to succeed, not fail. ~Henry David Thoreau
Success is never wondering what if. ~Karrie Huffman
Always forgive your enemies; nothing annoys them so much. ~Oscar Wilde
I will prepare and someday my chance will come. ~Abraham Lincoln
Success is the sum of small efforts, repeated day in and day out. ~Robert Collier
Do a little more each day than you think you possibly can. ~Lowell Thomas
People seldom see the halting and painful steps by which the most insignificant success is achieved. ~Anne Sullivan
Do not let what you cannot do interfere with what you can do. ~John Wooden
The gent who wakes up and finds himself a success hasn't been asleep. ~Wilson Mizner
Even the fear of death is nothing compared to the fear of not having lived authentically and fully. ~Frances Moore Lappe
Fear is the main source of superstition, and one of the main sources of cruelty. To conquer fear is the beginning of wisdom. ~Bertrand Russell
No passion so effectually robs the mind of all its powers of acting and reasoning as fear. ~Edmund Burke
Whatever you are, be a good one. ~Abraham Lincoln
The dictionary is the only place where success comes before work. ~Mark Twain
Genius is born—not paid. ~Oscar Wilde
Better to remain silent and be thought a fool than to speak out and remove all doubt. ~Abraham Lincoln
In the middle of difficulty lies opportunity. ~Albert Einstein
The true measure of a man is not how he behaves in moments of comfort and convenience but how he stands at times of controversy and challenges. ~Martin Luther King Jr.
There is no chance, no destiny, no fate, that can hinder or control the firm resolve of a determined soul. ~Ella Wheeler Wilcox
When I hear somebody sigh that Life is hard, I am always tempted to ask, Compared to what? ~Sydney J. Harris
Happiness lies in the joy of achievement and the thrill of creative effort. ~Franklin D. Roosevelt
We will either find a way, or make one! ~Hannibal
For myself I am an optimist—it does not seem to be much use being anything else. ~Sir Winston Churchill
We shall show mercy, but we shall not ask for it. ~Sir Winston Churchill
The greatest difficulties lie where we are not looking for them. ~Johann Wolfgang Von Goethe
It is common sense to take a method and try it. If it fails, admit it frankly and try another. But above all, try something.~Franklin D. Roosevelt
Eighty percent of success is showing up. ~Woody Allen
Difficulties should act as a tonic. They should spur us to greater exertion. ~B. C. Forbes
Success is not the result of spontaneous combustion. You must set yourself on fire. ~Reggie Leach
Many of life's failures are people who did not realize how close they were to success when they gave up. ~Thomas Edison
Excellence is to do a common thing in an uncommon way. ~Booker T. Washington
Never go backward. Attempt, and do it with all your might. Determination is power. ~Charles Simmons
Success is the ability to go from one failure to another with no loss of enthusiasm. ~Sir Winston Churchill
The only limit to our realization of tomorrow will be our doubts of today. ~Franklin D. Roosevelt
The difference between the impossible and the possible lies in a person's determination. ~Tommy Lasorda
The chain of destiny can only be grasped one link at a time. ~Sir Winston Churchill
Motivation is what gets you started. Habit is what keeps you going. ~Jim Ryun
Nothing great will ever be achieved without great men, and men are great only if they are determined to be so. ~Charles De Gaulle
We make a living by what we get, we make a life by what we give. ~Sir Winston Churchill
I learned that if you want to make it bad enough, no matter how bad it is, you can make it. ~Gale Sayers
Men are not prisoners of fate, but only prisoners of their own minds. ~Franklin D. Roosevelt
In my experience, there is only one motivation, and that is desire. No reasons or principle contain it or stand against it. ~Jane Smiley
People who are unable to motivate themselves must be content with mediocrity, no matter how impressive their other talents. ~Andrew Carnegie
Be miserable. Or Motivate yourself. Whatever has to be done, it's always your choice. ~Wayne Dyer
Desire is the starting point of all achievement, not a hope, not a wish, but a keen pulsating desire which transcends everything. ~Napoleon Hill
Real success is finding your lifework in the work that you love. ~David McCullough
Your own mind is a sacred enclosure into which nothing harmful can enter except by your promotion. ~Ralph Waldo Emerson
The time is always right to do what is right. ~Martin Luther King Jr.
The world is full of willing people, some willing to work, the rest willing to let them. ~Robert Frost
One's greatest success comes after his greatest disappointments. ~Henry Ward Beecher
He is foolish to blame the sea who is shipwrecked twice. ~Publilus Syrus
Learn to see in another's calamity the ills that you should avoid. ~Thomas Jefferson
A man's doubts and fears are his worst enemies. ~William Wrigley Jr.
Strength does not come from physical capacity. It comes from indomitable will. ~Mahatma Gandhi
Plans are only good intentions unless they immediately degenerate into hard work. ~Peter Drucker